France, one of the most advanced European countries, has a population of 65 million in 2020, and according to Worldometers, the UK has about 68 million people. Suppose we consider Uber as a country and the number of users as the people of this country. How many million people do you think Uber has?
According to Earthweb, in 2020, Uber will have about 81 million users in 6000 cities. That is, more than countries like the UK, Italy, France, and Spain. In 2021, this company reached 8.3 billion dollars in annual revenue, and in 2022, it acquired 25% of the US relative to the overall market share.
All these statistics show the success of Uber Eats in America and the world. Success is achieved through hard work, creativity, and ingenuity.
This article will explore the Uber world and get to know all the incredible facts and stories.
So let's go.
UberCab; Suspicious success story in Paris
How did it start?
In 2008, two friends named Travis Kalanick and Garrett Camp participated in the annual conference of The Economist, LeWeb. The title of this ceremony is "where revolutionaries gather to plot the future" and maybe at that time, few people thought that two of the revolutionaries who would plot the future participated in this conference.
Travis and Garrett had sold their startups in 2007 and came up with the idea of ​​Uber when they were unsuccessful in getting a cab back from a conference. An idea came from simple what if?;
What if you could request a ride from your phone?
However, after the conference, the two friends parted ways until Grant returned to San Francisco and started working on the idea, first buying the UberCab.com domain.
Starting Years
Uber started its work first in New York City with only 3 drivers, and the official launch of this series took place in San Francisco.
After the company's work started in 2009, they were able to raise $1.25 million in the first investment round in 2010. A year later, in the Series A round, they got another 11 million dollars to expand their work in different states of America and France. In the Round B investment, this company attracted another 37 million from Jeff Bezos, Goldman Sachs, and Menlo Ventures.
First chaos
Uber continued to attract funds and success until 2017, when one of the female employees of this group, after leaving Uber, in a 3000-word post, described the work environment in Uber as sexist, harsh, and offensive to most people. This caused chaos at Uber, and many high-ranking employees decided to leave the company. The investigation by Uber's board of directors led to Kalanick's resignation and Dara Khosrowshahi taking his place, and this was the beginning of another era at Uber.
Uber is still one of the most successful companies in America and the world and has introduced Uber Eats, UberPool, and Uber self-driving cars.
Special: Leaked Files and documents in 2022
More than 124000 documents leaked to the guardians that show co-founder and former uber CEO tried to force the cab-hailing service into cities around the world, even if that meant breaching laws and taxi regulations.
During the fierce global backlash, the data shows how Uber tried to shore up support by discreetly courting prime ministers, presidents, billionaires, oligarchs, and media barons.
Along these documents, On 26 January 2016, more than 2,100 furious French taxi drivers, backed by colleagues from Belgium, Spain, and Italy, staged a mass anti-Uber protest in and around Paris, blocking the ring road and reducing the city center to gridlock. Plumes of smoke from burning tyres rose into the air. As tempers flared outside the blockaded Orly airport, someone got hit by a minibus. Nearly two dozen cab drivers were arrested for offences from assault to arson. 
In Lille, an Uber driver was punched in the face after he dropped off a client – or "rider" as the company calls them – at a hotel. Similar violent incidents took place in Toulouse, Marseille, and Aix-en-Provence. After midnight, an Uber manager in France filed a situation report. "Team – all safe. Drivers/riders – generally safe, though 53 incidents so far including 35 involving a rider," he wrote. "Three relatively serious cases involving taxi violence including one badly damaged car and two beaten-up drivers."
According to the Uber files, some at the company appear to have seen an upside in the attacks against drivers. When attacks occurred, Uber moved swiftly to leverage the violence in a campaign to pressure governments to rewrite laws that stymied Uber's chances of expansion.
We keep the violence narrative going for a few days, before we offer the solution.

Uber manager
See More about these scandals: 
Uber Eats; first child of Uber
In 2014, Uber launched its food delivery service called Uber Eats. By using Uber Eats, users can view each restaurant's menu along with user comments and scores, pick the food, and pay the bill in the same application. Uber Eats was the new revolution in the food delivery industry. Uber Eats started its services in 45 countries and 6000 cities and became an efficient service from the beginning. Of course, everything did not go well, and this company and its other competitors DoorDash, GrubHub, and Postmates now acquired by Uber) faced various complaints such as antitrust price manipulation.
History
In August 2014, Uber launched the UberFRESH service and renamed it Uber Eats a year later. This service has its application. The price of Uber Eats orders' delivery has changed in different years, and the calculation model for this price is different for other regions.
Five years after the launch of Uber Eats, the company announced its plan to send orders with drones, and in the same year, the company signed a partnership agreement with Apple. Read More About Drone Delivery
In July 2019, a new service was added to Uber Eats, which allowed users to order the food they wanted (before arriving at the restaurant) and eat it at the restaurant (dine-in option).
Over the years, Uber Eats has entered the market of different countries, including Argentina, South Korea, India, Saudi Arabia, and the UAE, and has revolutionized the food delivery market in these countries.
Success; Hard work or just luck?
As we said, Uber Eats was not always so successful. In the first year of Uber Eats activity, you could place orders in limited restaurants, and a year later, the number of restaurants and the service radius of Uber Eats increased. In addition, changing customers' habits and expectations also significantly impacted Uber Eats's success. If people did not prefer ordering and delivering food to cooking, Uber Eats would not be so successful now.
Uber Eats incredible facts
At the beginning of this article, we mentioned the number of Uber users, and we realized that if we consider Uber as a country, the population of this country is more than countries like France, Great Britain, and Italy. Now let's play this game for Uber Eats. Suppose Uber Eats is a country. Do you think this country has more population than other countries?
According to the latest research, in 2022, Uber Eats will have about 66 million users served by about one million businesses in 6,000 cities.
The favorite food of this company's users is French fries, garlic naan, and pad thai, and if it's important to you, this company realized about 8 billion dollars in profit in 2021 🙂
There is an option in the Uber Eats application called "support this restaurant," The users of this service donate about 3 million dollars directly to their favorite restaurants through this option.
There are other interesting statistics and numbers related to Uber Eats. For example, during the Covid pandemic, one of the customers of this service registered an order of $7,719.82. An order that included 218 supermarket items. It is good to know that the average value of each order on Uber Eats is about 250 dollars.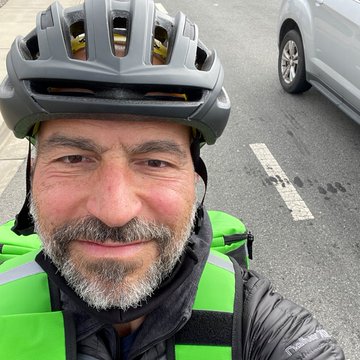 The last Fact. You might think that Uber Eats is the most popular food delivery service in the world, and you are right. According to the statistics of Apps that deliver, the general public of the world has introduced Uber Eats as their favorite food and drink delivery service, but this is not the case in America.
In 2021, DoorDash overtook Uber Eats and took 59% of the food delivery industry in the United States. This incident brought the share of Uber Eats to 24%.
Conclusion
Uber is one of the most prominent startups in the world, which achieved a significant reputation in the market with its creativity and accurate knowledge of the market. Uber struggled with many problems from the beginning and was able to overcome these problems with timely decisions and take a big step toward meeting people's needs.
One of Uber's popular services is Uber Eats, which has about 60 million users and make $8 billion in profits in 2021.
In this article, we got acquainted with the path of Uber and Uber Eats from the beginning of each establishment until today, and at the end, we checked some exciting facts about Uber Eats.
What do you think about Uber?
Do you think it is the most popular delivery service in the world?
Sources:
https://webtribunal.net/blog/uber-eats-revenue

https://www.businessinsider.com/uber-dara-khosrowshahi-delivered-ubereats-2021-6?international=true&r=US&IR=T

https://www.theguardian.com/news/2022/jul/10/uber-files-leak-reveals-global-lobbying-campaign

https://www.investopedia.com/articles/personal-finance/111015/story-uber.asp

https://startuptalky.com/uber-story/